Introducing VisaEase - the automatic visa checking tool!
Visa Ease allows you to review visa requirements for ever traveller in your booking file and every destination.
The application inspects your current booking file and determines which countries, including transit points, are being travelled to as well as passenger nationalities. Visa Ease then checks the visas that are required for the trip by connecting with CIBT.
Visa Ease then displays the overall visa requirement for each country. The details of this are recorded in the booking file for your reference - how good is that!?
Launching VisaEase

To access VisaEase click the VisaEase icon from the GDS toolbar
The process

Once you have made a booking, open VisaEase

The screen displays and lists all of the countries visited in the Itinerary - if a multi leg trip it will show any stops as well!

Hover your mouse over a country and a tooltip will appear showing you segment details - this is really useful for leg information!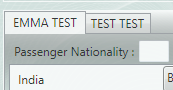 If there are multiple passengers in the booking file then we will list all names in separate tabs on the interface.

Enter the Passenger Nationality.
If APIS has been loaded in to the booking file in the correct format then we will automatically extract the passenger nationality.
Please note - Passenger Nationality is required as a 3 letter code, however, we will automatically overwrite this if a 2 letter code is entered.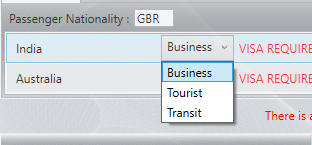 Select the type of visa that is required from the drop down list - Business / Tourist or Transit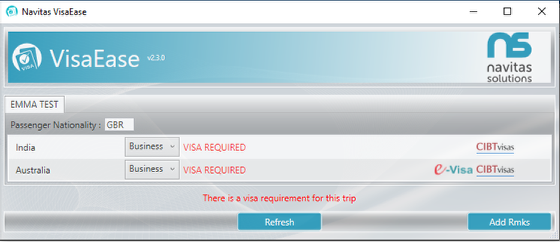 The visa requirement is automatically determined once all necessary information is entered.
CIBTvisas icon

The CIBTvisas icon shows that a Visa is required, and this can be serviced by CIBT. If you click on this icon then the CIBT website opens and you can submit your visa requirements to be processed.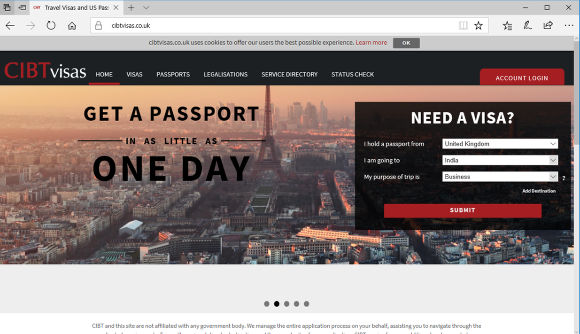 If you have access to a dedicated customer portal from CIBT then we can link to your specific web page - just email us to let us know (support@navitas.co.uk)!
e-Visa icon

The e-Visa icon shows that an Electronic Visa is available.
* Additional Information

An * (asterix) shows there is further information - hover your mouse over and text appears.
Add Remarks

An Add Rmks button is available if you wish to record the Visa summary in the booking file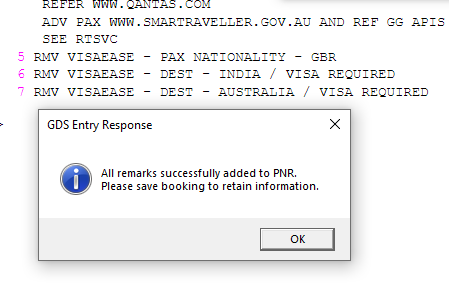 The remarks are added with a V qualifier - the booking must be ended to save these details.